How to start a npk fertilizer company?what should you consider firstly? The most important part is the npk granulates fertilizer plant cost.When producing NPK on your production line, there are many things that can affect the overall costs. The npk fertilizer manufacturing plant cost can affect your business dramatically. You need to know npk fertilizer manufacturing plant cost.Then you can get a sizable profit from the NPK that you are producing. For building your own npk fertilizer plant, you will pay money in many ways.You should consider when starting an NPK compound fertilizer plant project.
How to set up npk fertilizer plant at favourable price?(Site Rental Costs )
Do you know npk plant set up costing? A npk fertilizer plant that can produce continuously needs to consider site,power,water,manpower factors. After considering these factors, you can set up npk fertilizer plant at favourable price.There are several objective factors that need special attention:
Select Suitable Site Space Based on Your NPK Plant Production Capacity
Generally speaking,different sizes of areas have different fees. The minimum area of an npk fertilizer plant is about 800㎡, and its cost is about100,000$USD. You can build fertilizer plant of 800㎡to achieve a production scale of 1-2t/h. If you have 600,000$USD, you can build a large-scale 4000㎡fertilizer plant.It can achieve 25-30t/h production.Besides, it is easier to obtain a considerable income.Therefore, how much site you choose is closely related to your production capacity.
Where can begin npk plant at low cost?
If you are a new starter in npk fertilizer business ,you can consider to rent a abandoned factory.In this way, you can begin npk fertilizer business at a low cost.When you want to long-run develop fertilizer program, you can buy a complete npk fertilizer plant site. But this price needs to be calculated according to your local charging standard.If you have a farm then converting it into a fertilizer plant can save you money.Meantime, for reducing the cost of npk products transportation, you can select factories near the transportation hub.
Power, Water Cost Reduction on NPK Manufacturing
If there are power plants and rivers near NPK factory, which can reduce your unnecessary spending.Also,it is conducive to your equipment continuously operation and subsequent waste discharge.In addition, the electricity consumption of npk fertilizer factory is also a production cost.You need to equip with power saving machines.You can learn that each of our machines has the characteristics of low consumption, which can help you.
Manpower Cost
The price of npk fertilizer  plant need to consider the cost of workers.During NPK manufacturing, you need to employ people to operate the npk machines. But the number of workers depends on how automated the fertilizer line  is. We design highly automation, and small manpower requirements machine.You only need 3-4 workers. One worker puts the raw materials into the equipment. Two workers operate the machine.One worker is  packing NPK granulates fertilizer.
Cost on the npk fertilizer materials&machines
Once you start the production of npk fertilizer, you need to make the cost reasonably.When you calculate the cost of production npk fertilizer, can consider the raw materials and fertilizer machine.Based on our years of experience, we can give you some references.
Cost on raw materials
The npk granulates fertilizer plant cost includes raw materials. In order to make your npk fertilizer production smoother and more efficient, you should be stricter in the selection of raw materials. Excessive differences in raw materials will lead to harmful chemical reactions.They are not conducive to production and wastes money.You can buy the three sources of most suitable raw materials for compound fertilizer.They are nitrogen fertilizer, phosphate fertilizer and potassium fertilizer.
Cost on fertilizer machine selection
If the raw materials you have are mainly potassium sulfate, ammonium sulfate, ammonium phosphate and ammonium chloride, then you can use our double-roller granulator equipment and dry process for simple manufacturing.If you have different types of raw materials with high moisture,you can choose pan or drum machine to for wet granulation.If have higher quality requirements for npk fertilizers, just control the cost of water.
At the same time, during the production process, electricity costs cannot be ignored. The entire production process requires belt conveyors to transport materials.Because continuous electricity can ensure the continuous operation of the entire npk fertilizer plant. In order to reduce your electricity costs, we manufacture low consumption equipment for you to choose .
Technical proposal and a budgetary for different capacities of npk compound fertilizer plants
If you have a certain capital budget, welcome to consult us. We can provide you with our most advanced technical service support. We have designed the following npk compound fertilizer production lines for your reference:
6 ton per hour npk plantwithin 150,000$USD
This is a production line designed for small and medium-sized npk fertilizer plants. The production line needs to cover an area of about 800㎡. Its initial budget is about 100,000 USD. It has the advantages of less investment and quick returns.Besides,it is suitable for manufacturers who have just started the production of npk compound fertilizers. The 6t/h production line works for 8 hours a day. It can help you produce 50 tons npk fertilizer per day, and the annual output can reach 15000T.
invest 400,000$USDfor 18 ton per hour rotary drum fertilizer plant
You can choose the large-scale production line, the annual production capacity can reach 100000 mt per year.Its budget is about 400,000 USD.It covers an area of of about 2500㎡. Our company equipped this large-scale production line with our hot-selling rotary drum granulator.At the same time,this production line is suitable for manufacturers already operating the fertilizer business.His production cost is the most economical and well-equipped.
$50,0000npk Pan & Drum fertilizer plant over 25 ton per hour
If you want to continue to expand the production scale , you can consider this production line within $50,0000.It can help you reach 200 tons per day. It covers an area of of about 3145㎡.For your efficient production, we equips with both disc and rotary drum granulator.They can greatly shorten your production time, save production costs and improve production efficiency.
In addition,if you want to invest in large scale production, you can buy this granulation line. Because our secondary granulation is designed to perfectly meet your continuous granulation needs.Granulation and return granulation can be carried out at the same time. This will greatly shorten the pelletizing time and improve the efficiency to increase your benefit. At the same time, the fertilizer granules made from double granulation are smoother and more beautiful.
In short,this line design enables faster and higher quality fertilizers throughout the fertilizer production process. It is important to have high quality pellets so you can make the most money.
A complete set of machinery for the production of npk chemical fertilizers Cost
To shorten construction period, reduce production cost, and make full use of land resources, you can use our a complete set of machinery for the production of npk chemical fertilizers : crusher→batching machine→mixer→granulator→screen equipment→dryer→cooler→coating machine→packing machinery.
These npk machinery manufacturing cost are key to set up npk fertilizer plant for sale.However,a complete set of machinery for the npk granulates fertilizer plant cost is different.It need your fertilizer production capacity to choose the number of fertilizer equipment.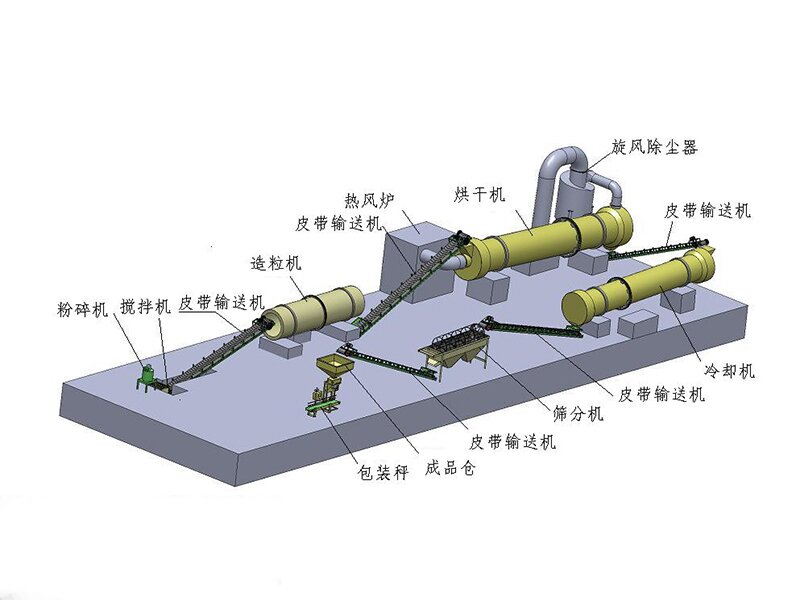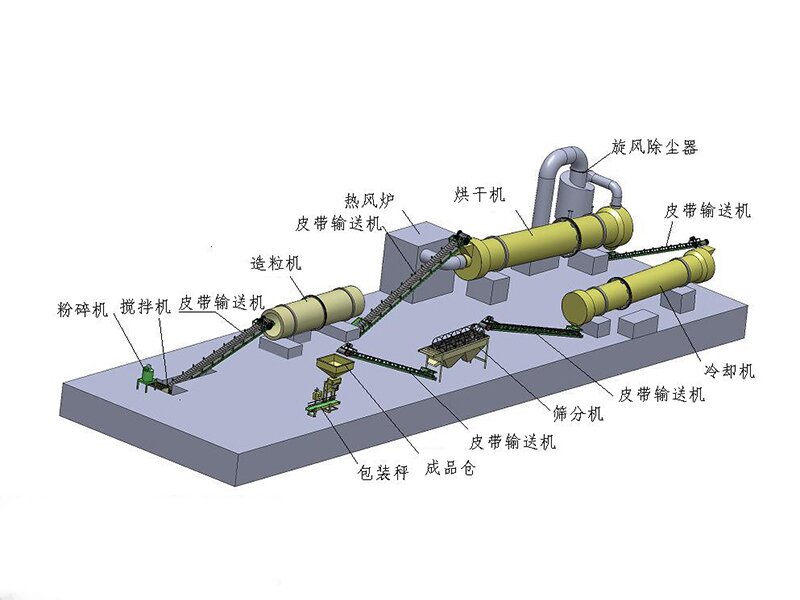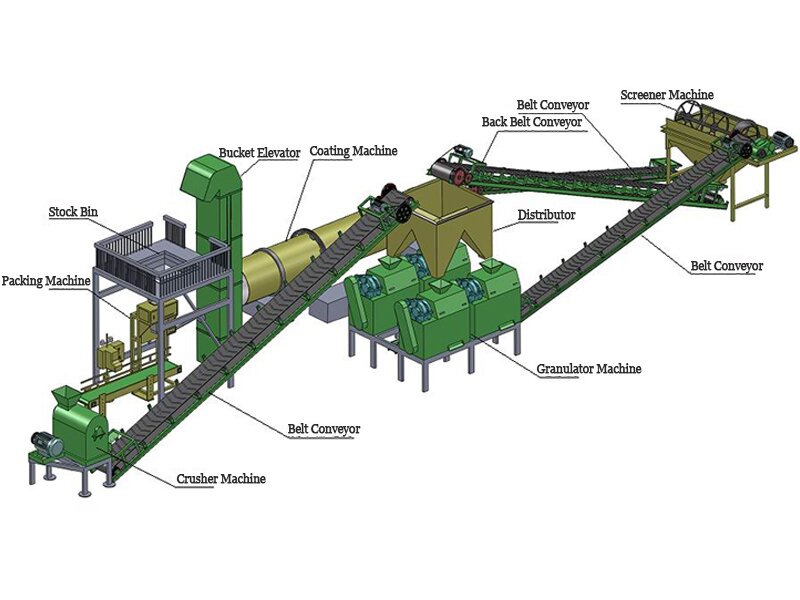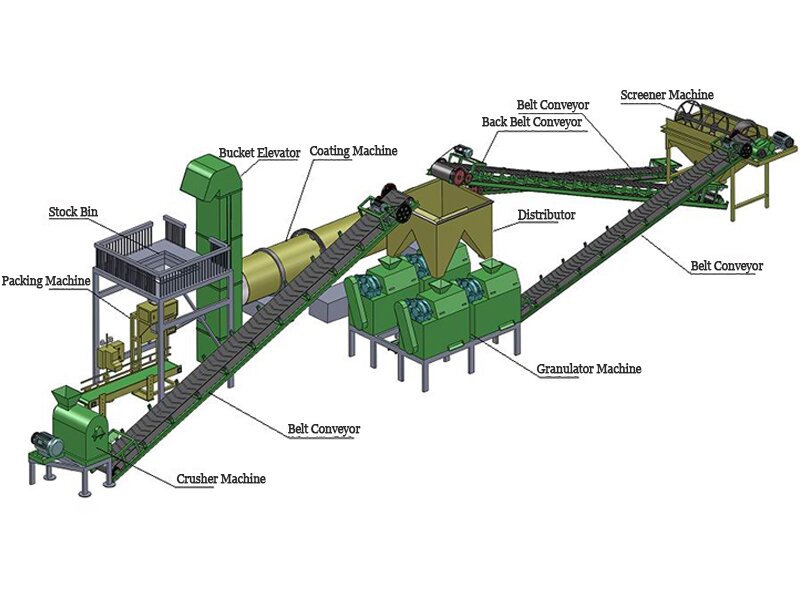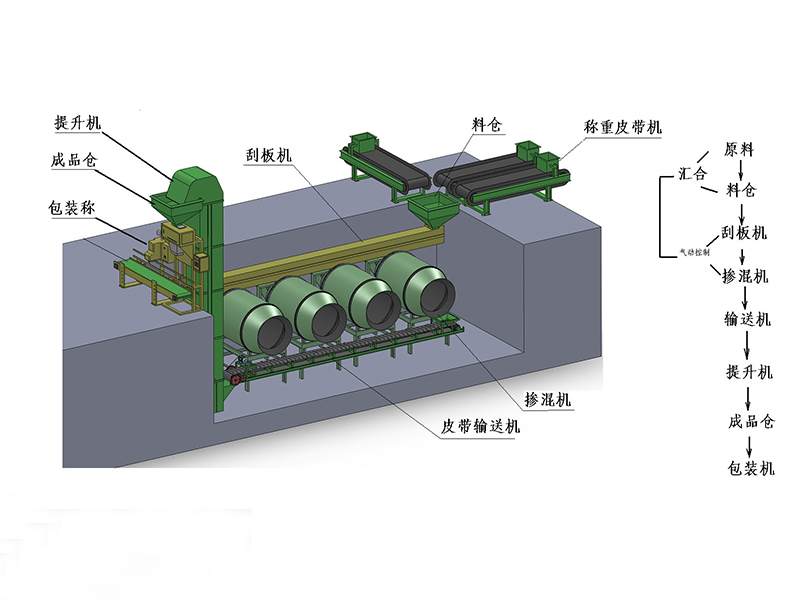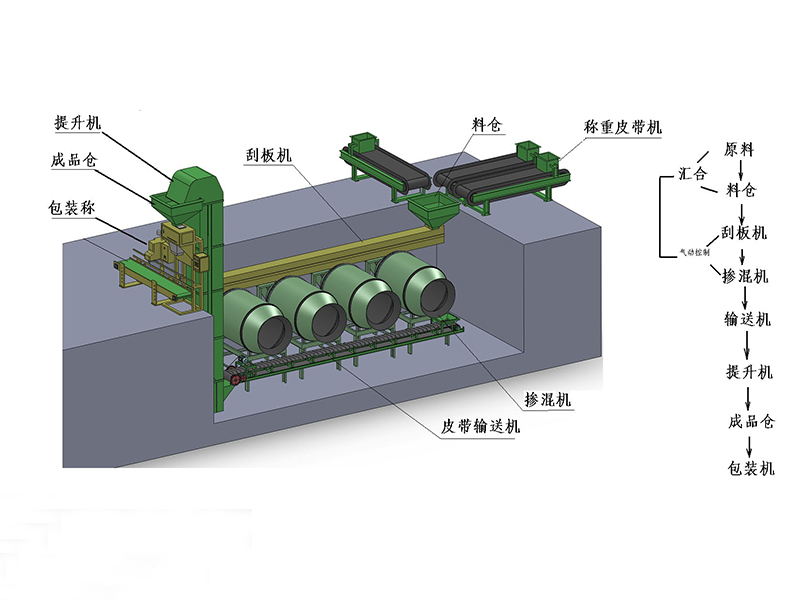 1-2t/h NPK fertilizer line cost: You can pay money for a crusher and a granulator.The total manufacturing cost is about 100,000$USD.
4-6t/h NPK fertilizer line cost:It fertilizer machine mainly are crusher and granulator.Its quotation is about 150,000$USD.
8-10t/h NPK fertilizer line cost:can use crusher, mixer and granulator.200,000$USD can buy this fertilizer making line.
10-20t/h NPK fertilizer line cost:This line is a large scale fertilizer production and is an economical fertilizer line.It equips key machine including crusher,batching machine,mixer,granulator,and packing machinery.The total manufacturing cost is about 450,000$USD.
20-40t/h NPK fertilizer line cost:This is a fully automatic production line.It is equipped with our full equipment including crusher,batching machine,mixer,granulator,screen equipment,dryer,cooler,coating machine,packing machinery.Its quotation about 800,000$USD.
In short, not all sizes of production lines need to buy a full set of equipment production lines.The price of different production capacity is also different.You can tell us your production capacity ,and we will recommend you suitable fertilizer equipment.At the same time,you can get all machinery for the production of npk chemical fertilizers quotation.
 What is the market-oriented npk fertilizer manufacturing line cost?
There are different types of npk on the fertilizer market. Therefore, we design different npk formula production line. How to choose these most popular the market-oriented npk fertilizer? What is the npk fertilizer manufacturing line cost?
General-purpose fertilizer
Firstly, we recommend you a general-purpose fertilizer production line of npk15-15-15.The production cost of these balanced npk is cost-effective.You can use this all-purpose fertilizer formula for any crop.Because it has a wide range of applications. Each npk pellets contains precisely tailored/balanced amounts of NPK.A 20t/h npk15-15-15 granulates fertilizer plant cost is 450,000$.This line based economical sulphate fertilizer to produce triple 15 fertilizer .In addition,if you buy this fertilizer line, you also can make npk 12-12-12, npk10-10-10 and npk20-20-20.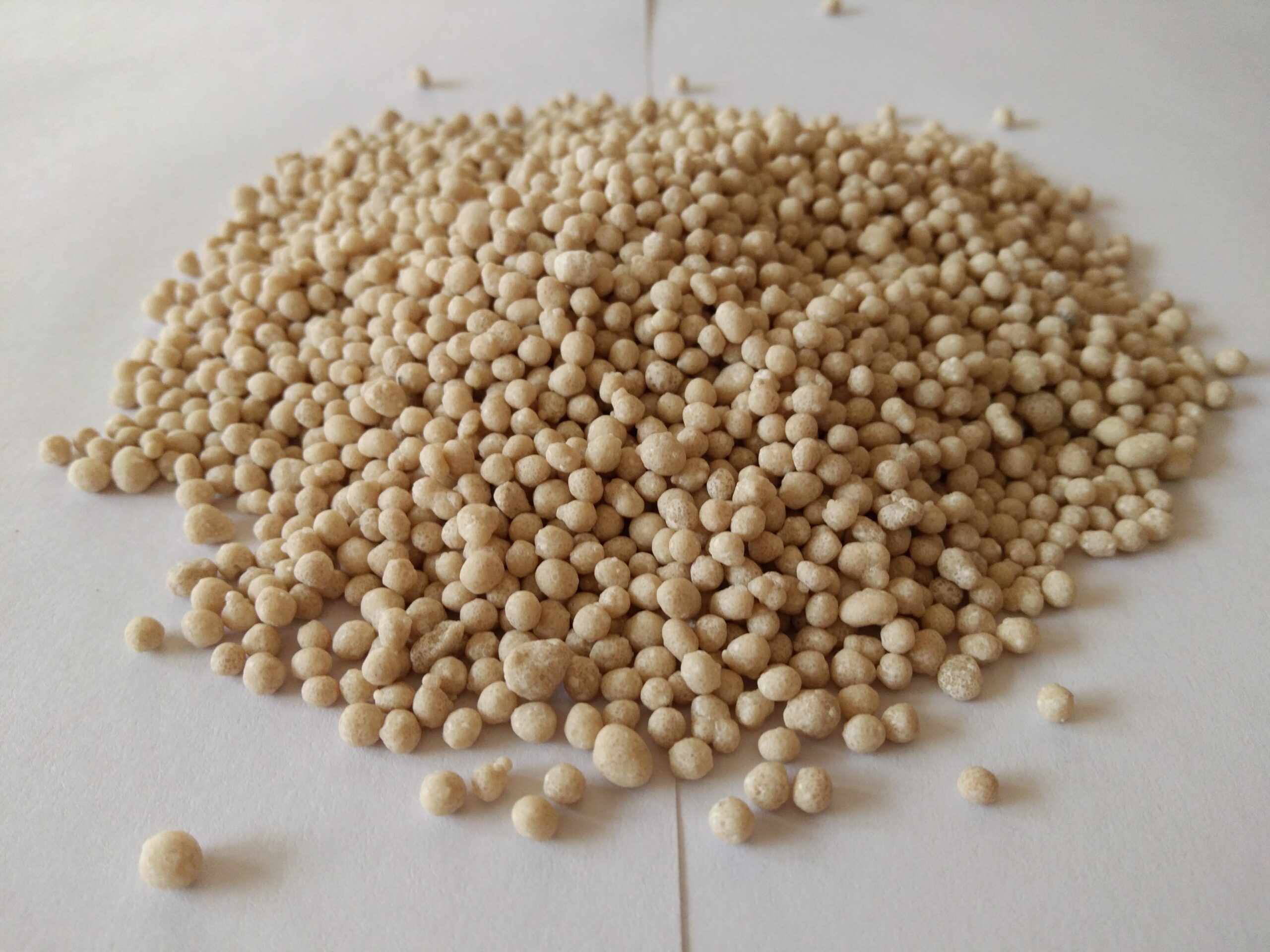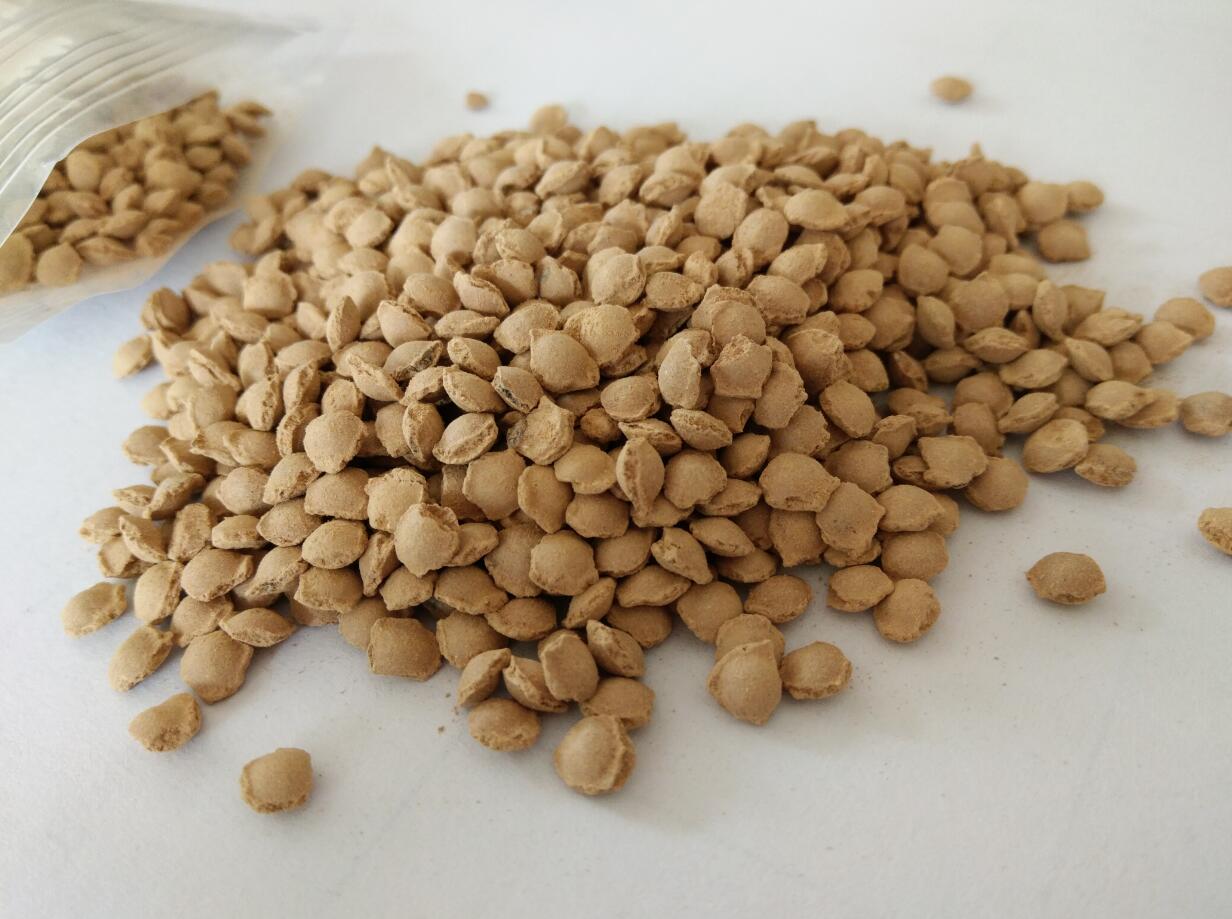 Corn-specific fertilizer
In addition, we recently designed a corn-specific npk fertilizer production line according to the fertilizer market demand. The npk fertilizer made by this line contains 18% nitrogen, 10% phosphorus pentoxide and 12% phosphorus pentoxide. Potassium oxide, the total nutrients can reach 40%. The fertilizer of the production line can improve the ability of corn to resist drought, premature senescence and lodging, and increase the yield of corn by 13%-18%. This high-quality fertilizerline with 20t/h production, can get more profits. This npk granulates fertilizer plant cost is 550,000$.
In short, you can change the ratio of N, P, K in the formula to produce fertilizers according to the characteristics of soil fertility in various countries.Or you have the nutrient requirements of most crops, such as: N:P:K≈1.2:1:0.8.Our equipment is fully capable of meeting these ratios for the fertilizer manufacturing process. Welcome to inquire with us for a quotation for these special production lines.
A small investment can bring a big returns
For a successful npk fertilizer manufacturer, it should not only produce high quality npk fertilizer, but also sell it at a good price. So what should npk makers do? In order to help fertilizer manufacturers gain more profits, we have designed some auxiliary equipment including dryer,cooler,coating machine in the npk fertilizer production line.They can improve the quality of npk fertilizer and obtain a good profit.
Dryer
It can increase the strength of granular NPK fertilizer.The moisture and strength of granular NPK fertilizer do not meet the packaging requirements. Therefore, you need to use a fertilizer dyer to remove excess water. When the fertilizer moisture reaches 10%, it can sell at a good price.
Cooler
It is a good choice for improving npk quality.After the drying process, there is a high temperature on the surface of the NPK fertilizer granules. Now you can use the cooler. The cooler reduces the surface temperature of the NPK fertilizer granules for further packing. In addition, the cooler can recycle the dust produced by the collision of npk fertilizer particles.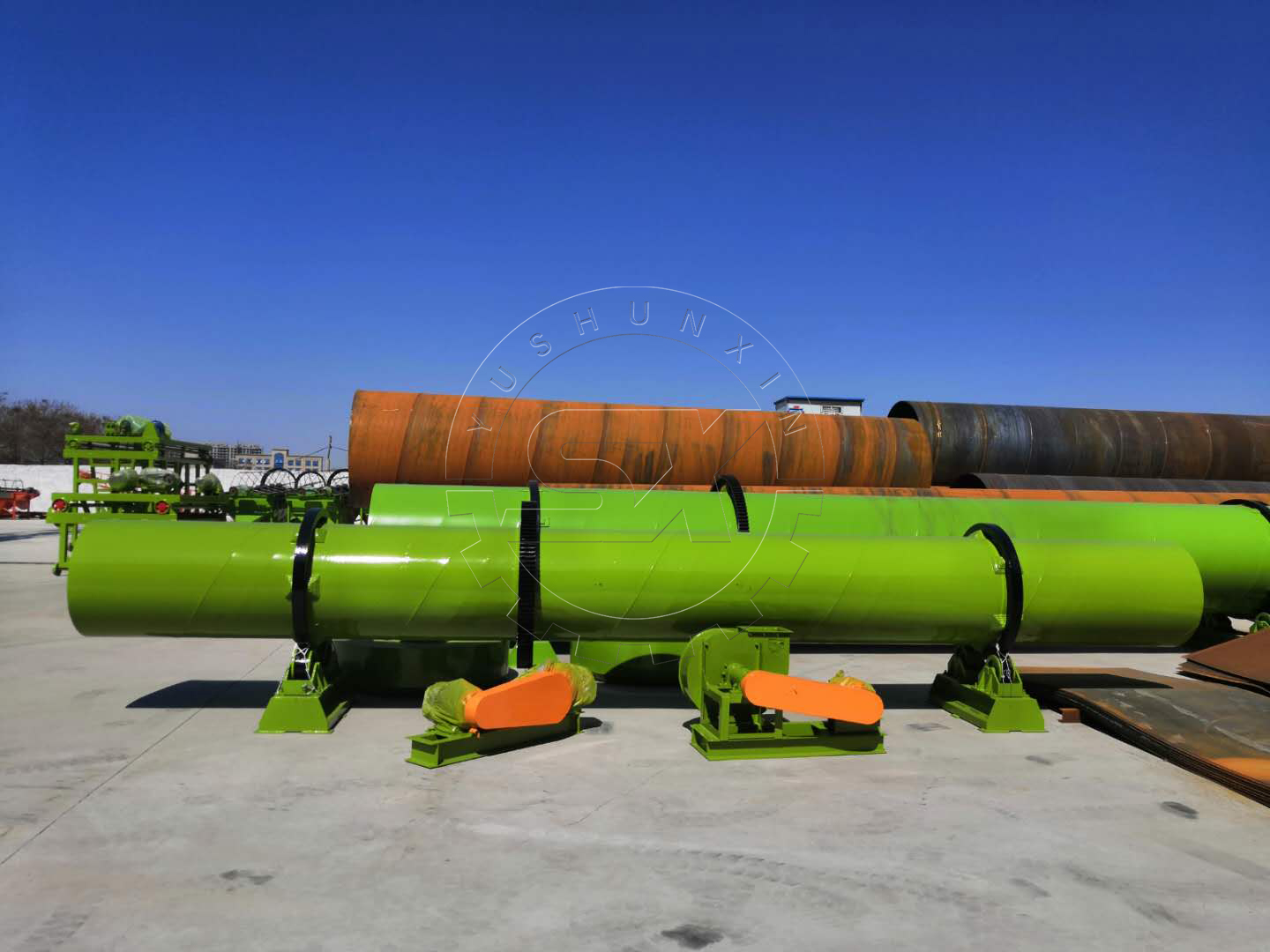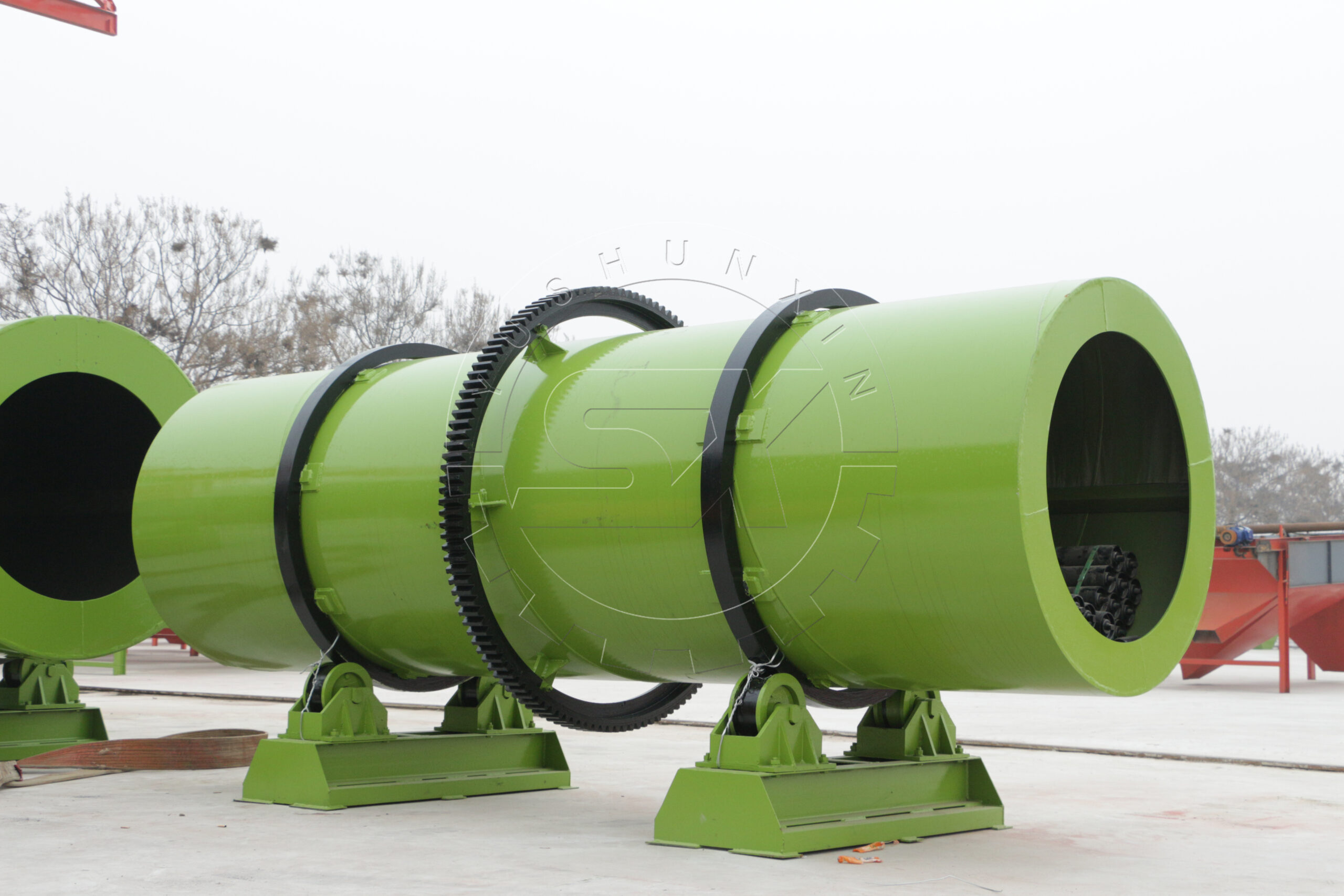 The Coating machine
It prevents the lumps of npk compound fertilizer.During the coating process, the coating machine can improve the fluidity of NPK compound fertilizer granules.For effectively preventing the lumps of npk compound fertilizer, you can use our rotary coating machine.The complete equipment of rotary coating machine consists of spiral conveyor,mixing tank ,oil pump and main engine.It adopts powdering powder or liquid coating process,which is an effective npk compound fertilizer equipment.
Moreover, if you want to increase the brightness and roundness of the granules, our coating machine can help you make the appearance more beautiful and finally sell out at better prices.
These auxiliary equipment including dryer,cooler,coating machine maybe will be a small cost.However, in the npk fertilizer production process, they all can help you sell fertilizer at good price.Finally, you can gain a big returns.
Choose quality npk production equipment to save your maintenance costs
In order for the NPK fertilizer granulation plant to operate continuously, when the equipment is worn out, you need to maintain it in time. Therefore, the maintenance cost of the equipment is also an expense for your fertilizer plant. However, when you buy high-quality fertilizer equipment, it reduces the frequency of servicing the equipment.Here we recommend some of our popular high-quality fertilizer equipment:Disc granular、Rotary drum granular、New type vertical crusher、Disc mixer.
The disc granulator is lined with high-strength FRP.Ithas the characteristics of anti-corrosion and durability.This design can help you protect your fertilizer equipment.In addition,high granulation rateand stable operation also make high quality pellets.It equips Siemens power motor can reduce the loss of electric energy.
The rotary drum granulator is technologically innovative and structurally improved. The barrel is lined with special rubber sheet or acid-resistant stainless steel lining to achieve automatic scar removal and tumor removal, eliminating the traditional scraper device.
The new type vertical crusher blade adopts special materials,and service life is triple times than other crusher machine.The inner wall of the machine shell is lined with polypropylene board, which relieves the problem of material sticking to the wall and not being easy to clean up;The chain cutting head is made of special steel, effectively improving the production efficiency;Rarely affected by the moisture content of materials, and the moisture content can reach about 8%;
The disc mixer has high stirring efficiency and small floor space. The spiral blade adopts special high – wear alloy.The vertical disc fertilizer mixer adopts the reducer transmission; the rotation is stable, and the noise is low. Feeding from top and discharging from bottom, which is reasonable structure.
Anti-corrosion, strong, stable, and self-cleaning device are all designed by our professional engineers. They can protect your fertilizer equipment from unnecessary wear and tear. In a word,choosing quality npk production equipment can save your maintenance costs.
how to buy npk fertilizer production line?
In our company, you could find different types of compound fertilizer production line. Besides, there are whole set of different fertilizer machinery for fertilizer production for your reference.Please give us your budget and our professionals will design the suitable fertilizer line and equipment for you.
230,000 $ fertilizer production solution
In March, 2022, our company received an inquiry from a customer, who told us that he had a venture capital of 230,000 USD and wanted to develop the business of npk fertilizer factory. So he contact us to provide him with a solution. According to his current stage budget, we designed a npk fertilizer production line for him with an annual output of 60,000t.
Start 10t/h NPK fertilizer manufacturing process
This large scale line not only meets our customer's budget but also can achieve high-efficiency production of 10t/h. In this npk fertilizer production line with an annual output of 60000t, we equip him with a complete set of npk production equipment and provided follow-up technical service support. After the customer decided to cooperate, he successfully started his own npk production project.
The NPK fertilizer line of 60,000 mt per year
In the line of 60,000 tons per year, the key equipment of npk production are batching machines, mixers, granulator machine, and screening machines. Our customers are very satisfied with a low-consumption. In addition, our customers also highly approve of our  drying cooler and coating machine.These equipment have greatly improved the quality of the npk they produce.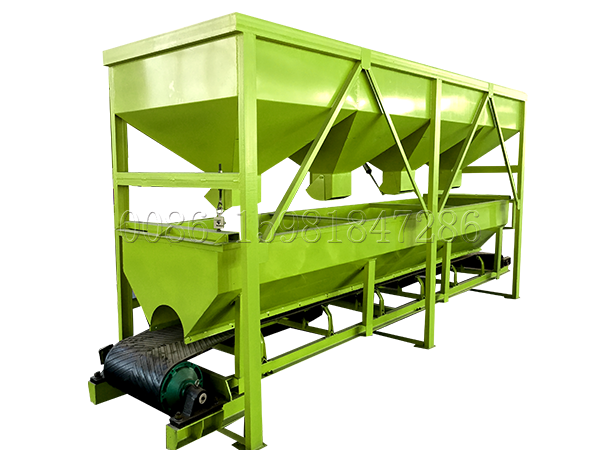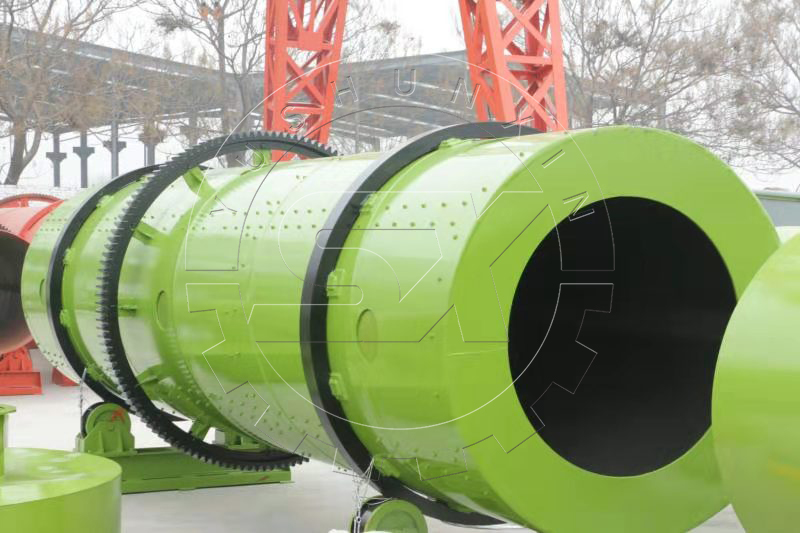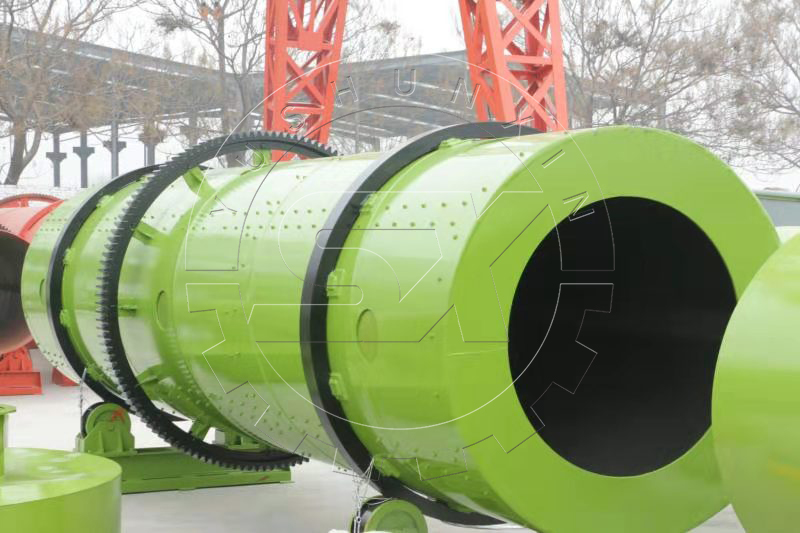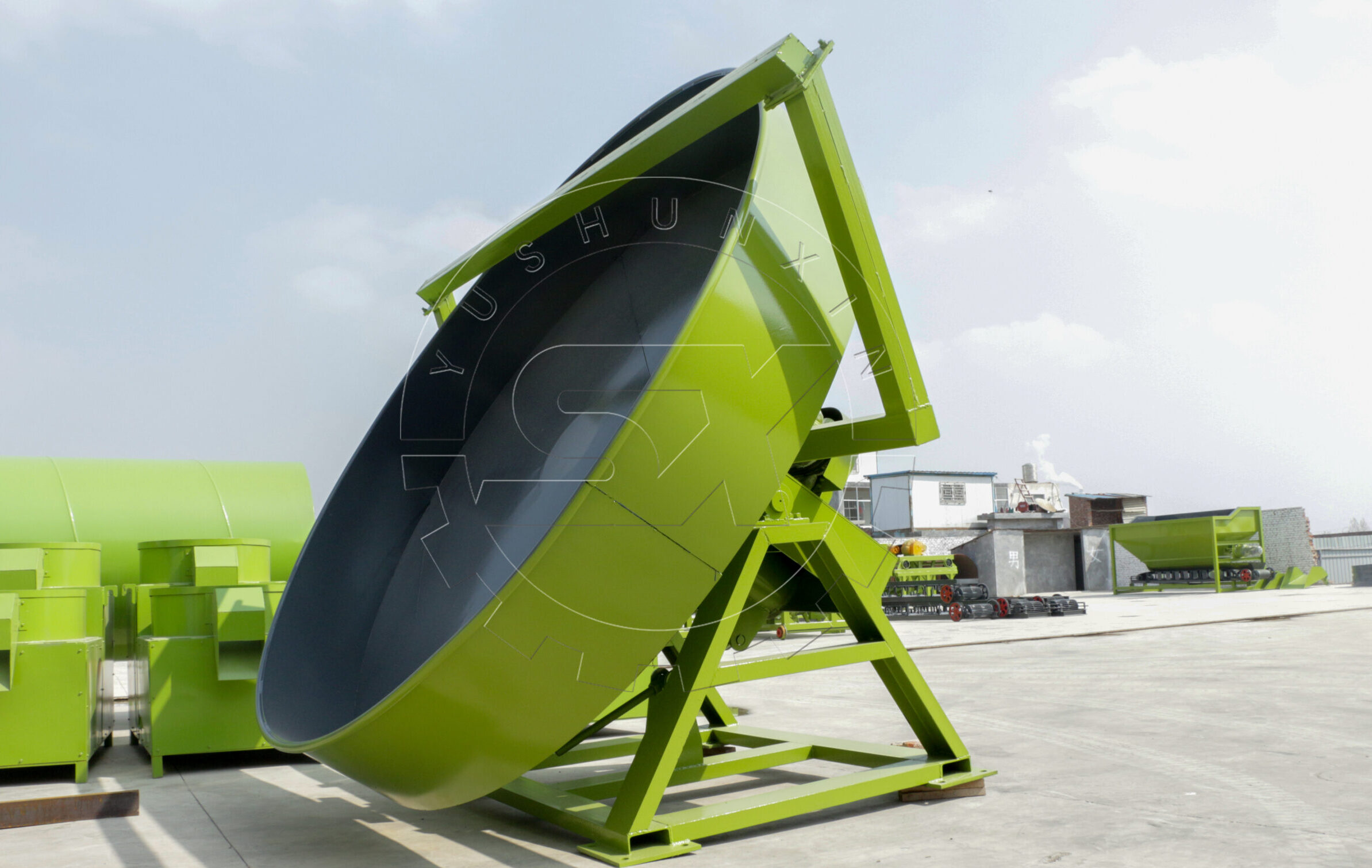 How to get quotation for your NPK production plant?
The npk fertilizer plant project has a bright future. NPK fertilizer is the choice of more and more fertilizer manufacturers. Investing in a npk fertilizer plant within your budgetary for complete line NPK Fertilizer plant is a wise choice. The npk granulates fertilizer plant cost not only has low investment but also quick returns. You can even start your fertilizer factory business from your own mine or farm.What is the price of npk plant project cost?We can help you make a quotation for complete line NPK Fertilizer plant.
We promise that you can buy our high-quality npk production equipment at the economical price. No matter you have any production needs or equipment requirements, we can customize it for you. What kind of production line do you want?What kind of raw materials do you have?What's your budget?How much production capacity do you want?How big is your site?Please let us know these needs, we are always ready to provide you with a reasonable quotation for your npk compound fertilizer production plant.