Fertilizer NPK 23-10-5 Compound fertilizer is a type of fertilizer which contains three nutrients of N.P.K.The main specific formulations are N、P2O5、K2O.Since they are mostly solid particles, it is one kind of granular compound fertilizer. SX machine can help you manufacturer all kinds of formula NPK compound fertilizers and can also produce various formula N-P-K according to the customers' requirements. Therefore,as a starter fertilizer manufacturer, you can use npk23-10-5 granular fertilizer production line to begin your compound fertilizer business.The production line is highly economical and requires only three simple production process.Generally, a 23-10-5 fertilizer blending line includes automatic bathing machine, BB fertilizer mixer, and fertilizer packing machine. If you are seeking for complete blending production solution, these following suggestions can help you.
Raw Material Usage For Production Of NPK 23-10-5 Fertilizer
This superior agriculture grade npk need strict nutrient ratio. Professional 23-10-5 formula we design for your production solution can guarantee its all propose crops or garden purpose.That is to say, total nutrients (N+P2O5+K2O): 38%min. More details:total nitrogen (as N) : 23%min; total phosphate (as P2O5) : 10%min; and total potassium (as K2O):5%min.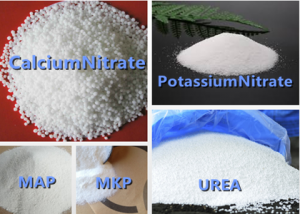 Before blending, how to choose effective nitrogen source?
One of the most efficient nitrogen sources is Urea. Also known as Carbamide.Urea contains 46% nitrogen (N), which is the highest nitrogen content among solid nitrogen fertilizers. Urea does not leave any harmful substances in the soil, and long-term application has no adverse effects. However, if the temperature is too high during production, a small amount of Biuret substances will be produced, which has an inhibitory effect on crops. Therefore, SX is equipped with a drum drying cooler after the granulation process in the fertilizer production line to ensure the appropriate temperature of the fertilizer.
Urea is commercially used as a fertilizer and feed ingredient.More than 90% of the produced urea is used as a fertilizer.Of all the nitrogen fertilizers, urea has the highest nitrogen content (46.4%).Therefore, its fertilizer production line produces the lowest transportation cost per nitrogen nutrition.At the same time, the solubility of urea in water is very high, and the the final npk fertilizer is easy to fertilize.
Selection to different phosphate fertilizer as for production materials.
MAP and DAP are all very valuable fertilizer materials.Monoammonium phosphate(MAP) is fully water-soluble, stable in air, not easy to absorb moisture, and its PH is 4.4-4.8. It provides water-soluble phosphorus and ammonium nitrogen to plants. The PH of diammonium phosphate(DAP) is 7.8-8.2.It can also provide water-soluble phosphorus and ammonium nitrogen for plants.The difference between the two is simple, from two aspects.
First, the nitrogen and phosphorus ratio of MAP is 1: 4, while the nitrogen and phosphorus ratio of DAP is close to 1:2. According to the optimal absorption ratio of elements by most crops, DAP is more easily absorbed and utilized.

Second,MAP is acidic after being dissolved in water, while DAP is alkaline. Therefore, the finished compound fertilizers made of different raw materials in the granular fertilizer production line also have different characteristics. In addition, under different soil conditions, the application of the two fertilizers will have different results.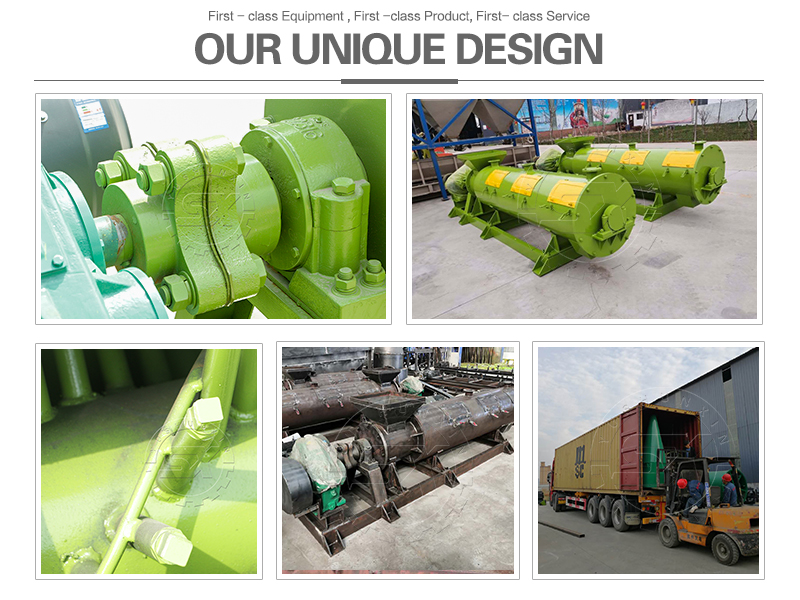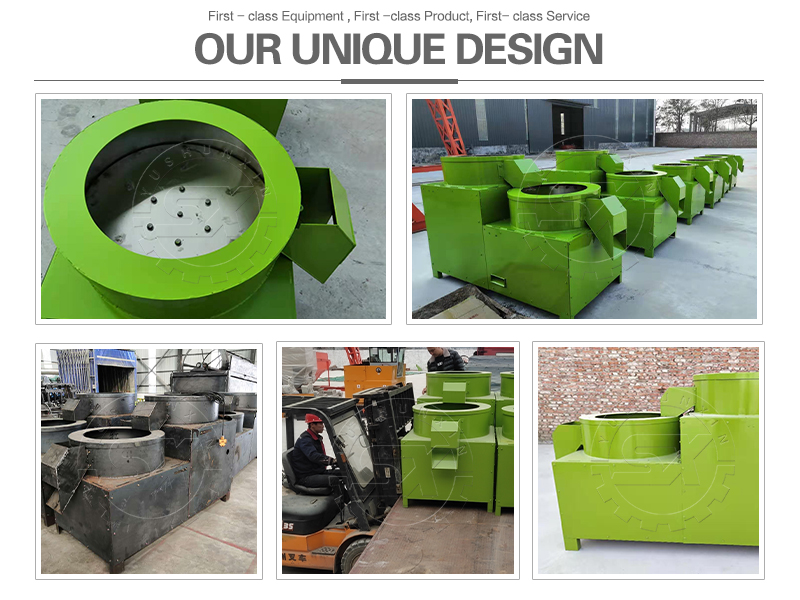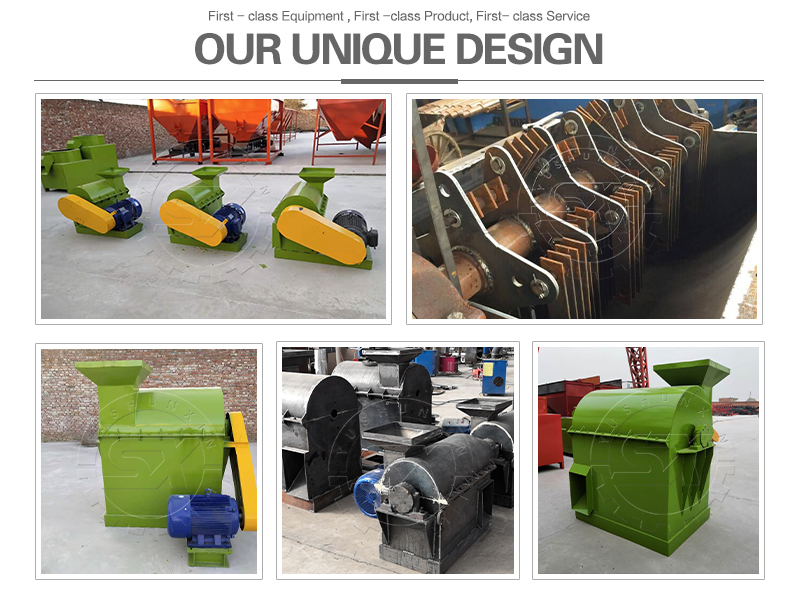 Preparing some total potassium in manufacturing process also important
In the fertilizer production process, raw materials determine different fertilizer formulations. Although some formulations have low levels of certain elements, they are still important. Potassium fertilizer sources are mainly potassium sulfate and potassium chloride. The Potassium sulfate is a commonly used potash fertilizer in agriculture, and the required potassium oxide content is 50%. And Potassium chloride is also an important potash fertilizer in agriculture. Its fertilizer effect is fast, and it is directly applied to farmland.They can increase the moisture in the soil and has the effect of drought resistance. However, it is not suitable for application in saline-alkali land and crops such as tobacco, sweet potato and sugar beet.
How to realize automatic batching process for quality NPK 23-10-5?
According to the production ingredient formula, you can proport these raw materials. In the past, workers in fertilizer plants often used manual operations to weigh various raw materials separately. This method is not only inefficient, but also the ratio cannot be 100% accurate. Now, SX designed a dynamic automatic batching system. The dynamic batching machine is suitable for sites with continuous batching requirements, such as fertilizer batching. This kind of fertilizer equipment design will not stop the batching in the process of production, and the ratio of various materials is more accurate. Dynamic batching system measurement generally uses electronic belt scales as measurement equipment. In addition, the host also has PID adjustment and alarm functions.It can realize automatic control of the entire batching bin machine.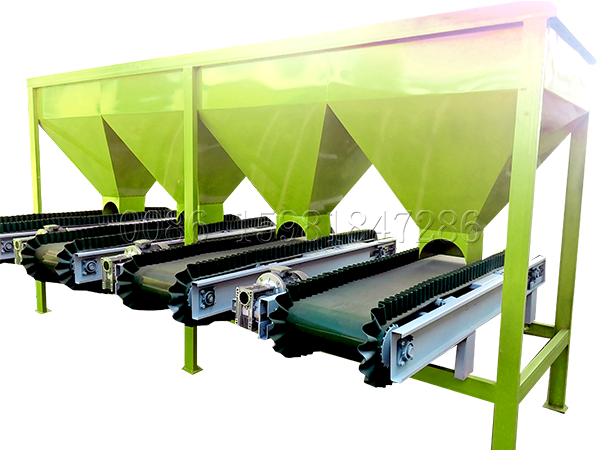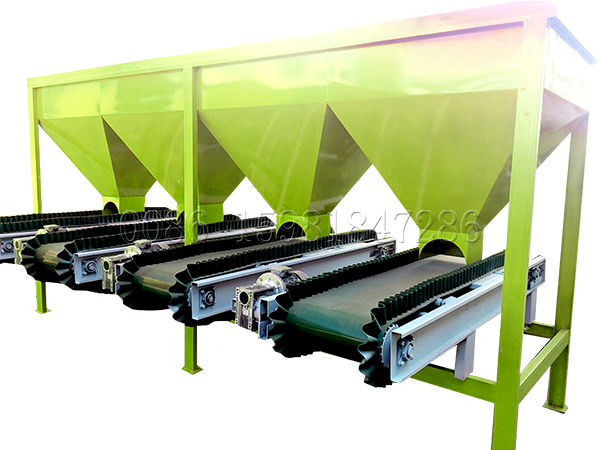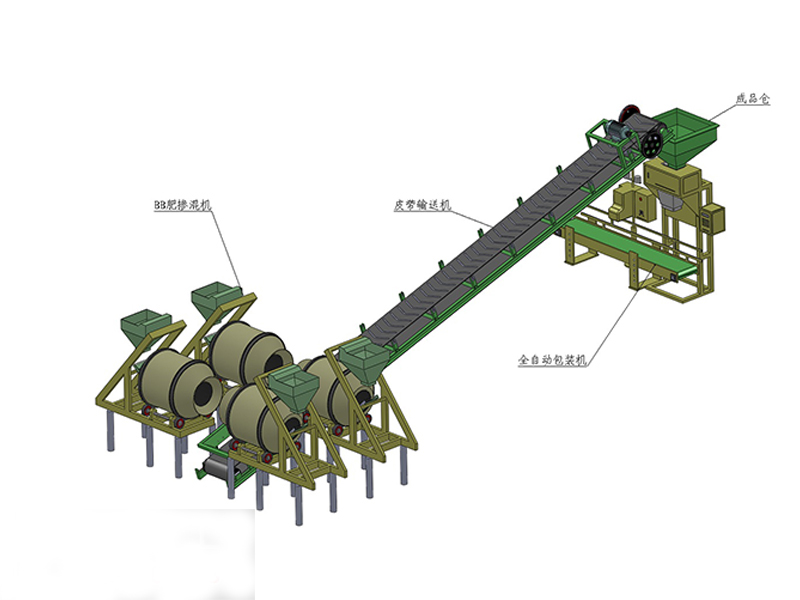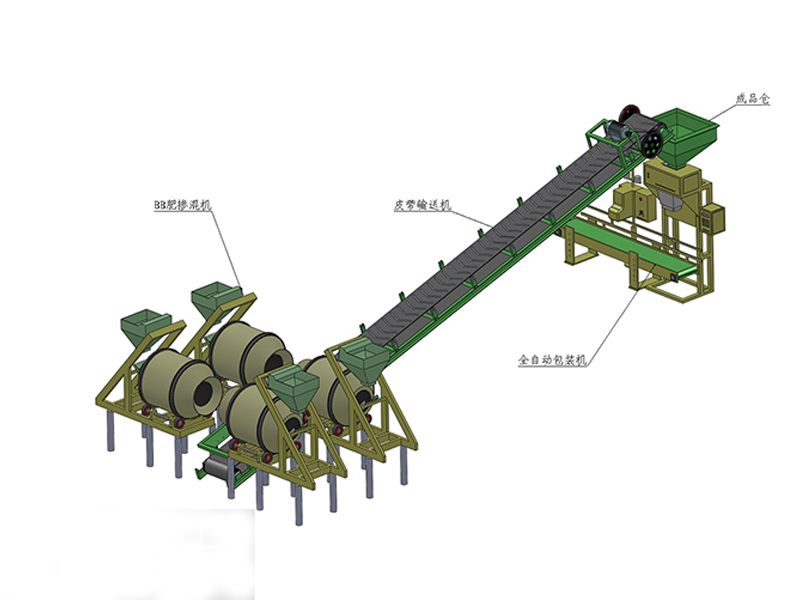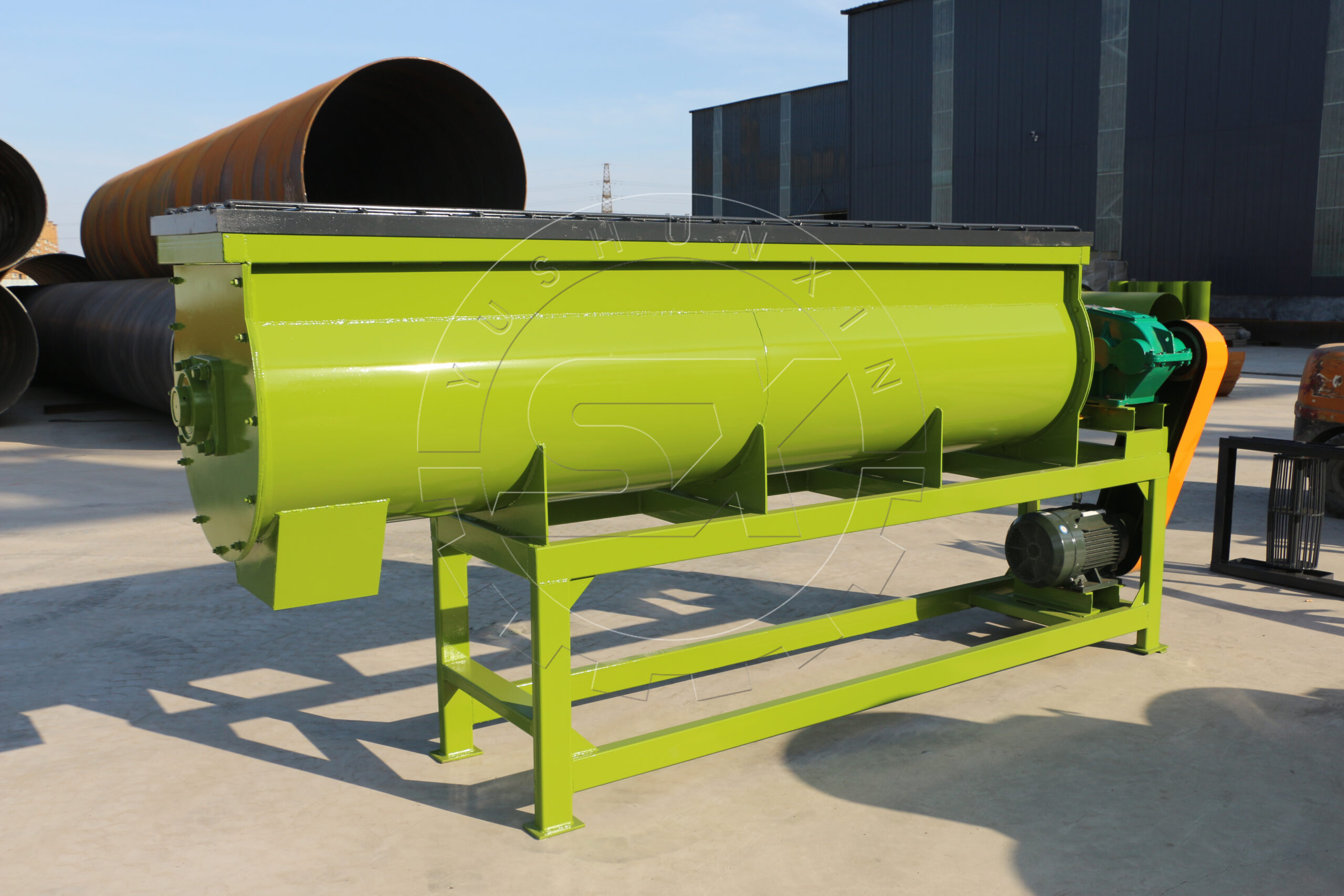 Key Blending Process To Form The Final NPK23-10-5 Fertilizer
If you have chosen the fertilizer materials ,next thing, you should prepare the blending process.After the proportioning is completed, the raw materials will enter the mixer to the continuous blending through the conveying equipment. Generally, you can get the final material which just needs 3-5 minutes from inputting to outputting process.In this blending step to form the final NPK,mixer plays a critical role in this process.Therefor,choosing a good mixer is very important.How to select best suitable blender for your fertilizer production line?You can refer to these hot-selling mixing machine manufacturing line in SX.
How to select best suitable blending line for your BB fertilizer production?All three of the above can be your choice. But in order to produce high-quality fertilizers more efficiently, you first need to determine what your raw materials are and what capacity you can budget.If you need a BB fertilizer quotation, please feel free to contact us with your production raw materials and capacity requirements, and our professionals will make price of a whole plant of fertilizer blending for you,which can help you choose best bulk blending machine.
 NPK 23-10-5 Small Packing Line Of 25 or50 kg/bag
To meet market demand and crop yield, 25kg or 50kg per small package is the most suitable.It is convenient to load and unload during transportation. In addition, in order to sell fertilizers, the percentage of total nutrients of N, P2O5, and K2O should be marked on the fertilizer package, and the percentages of N, P2O5, and K2O should be marked with the formula.For example, N, P2O5, K2O are 23%, 10%, 5% NPK compound fertilizer, its formula is NPK 23-10-5.
How to make your npk granular more beautiful in packing process?

Besides the beautiful outer packaging, the appearance of the granules is also important. Therefore, we recommend an auxiliary equipment: the coating machine. The coating machine adopts coating technology. It can not only make the particles have a beautiful appearance of various colors (White/Green/Brown/White/Red/Dark), but also add some trace elements to make the fertilizer more efficient. They can all help you sell fertilizers better.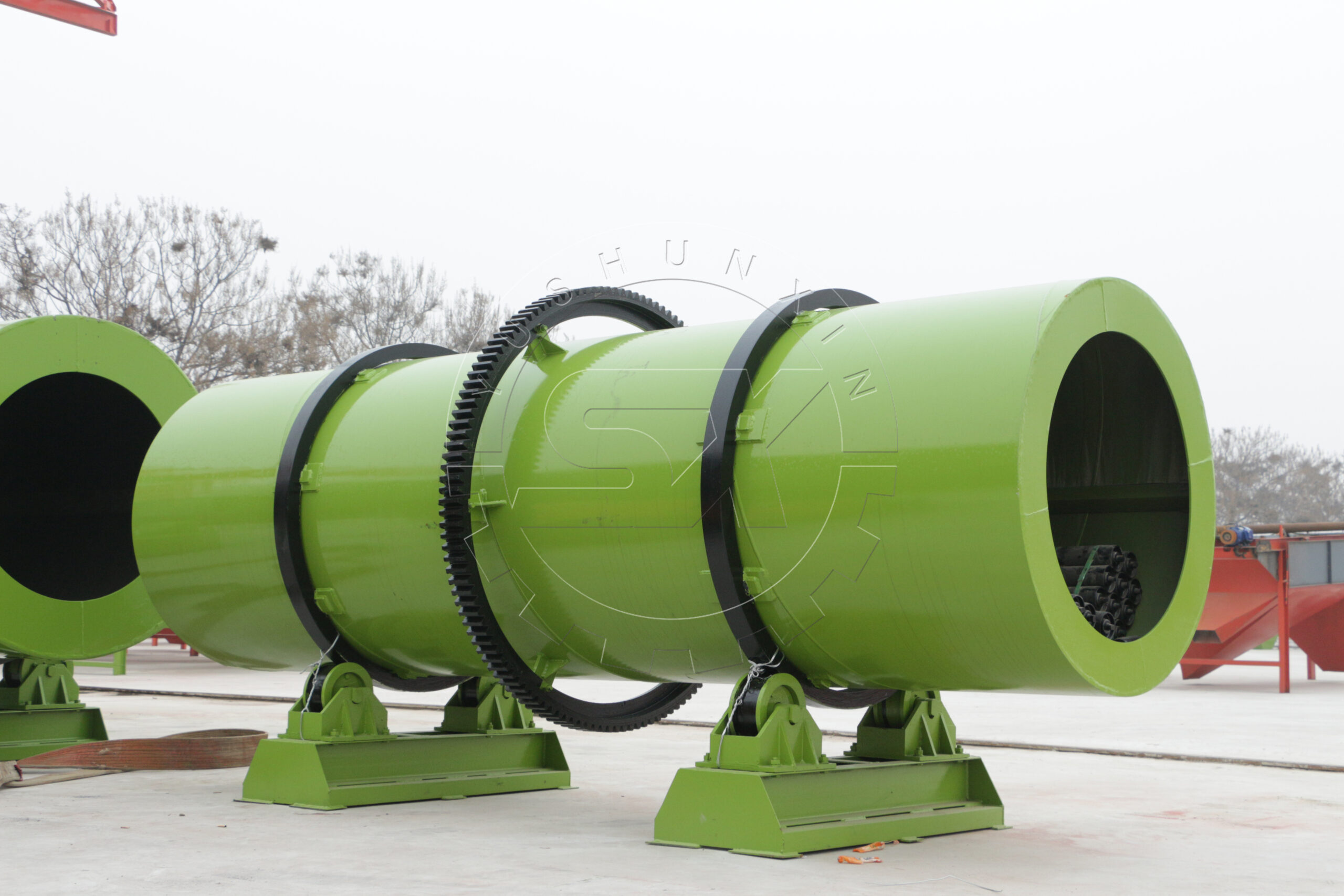 In a word, choosing the right bulk blending line will speed up the production capacity of your NPK23-10-5 fertilizer plant and bring you higher economic benefits. SX can design different blender production lines with various capacities for you. You can choose according to the production capacity, plant area and total power you need. If you have a large fertilizer production plant, we have a wide range of equipment to meet your needs. At the same time, if your factory is a small factory, you can choose our small granulation production line.  As long as you tell us your needs, we are willing to provide the right method for your NPK fertilizer mixing business. We have professionals who can provide you with technical support. Please feel free to contact us!