Rotary drum granulator is a kind of equipment that can process materials into a certain shape. ShunXin rotary granulator can be widely used in multi-nutrient different compound fertilizers, such as NP, NK, PK, NPK, etc. Suitable raw materials include ammonia, phosphate, nitrogen solution, phosphate slurry, tri-superphosphate slurry, etc. The material rotates in the cylinder, condenses, and transforms into compound fertilizer under certain temperature and moisture conditions. Rotary drum granulators are generally used in compound fertilizer production lines with high production capacity. For example, rotary drum granulators are the first choice for compound fertilizer production lines with an annual output of 100,000 tons. At the same time, ShunXin drum granulation machine applies wet granulation technology. But if you want to save money, we also have double roll granulators with dry granulation technology. In short, the granulator produced by Shunxin can meet your different needs.
Why Rotary Drum Type Pelleting Machine Are at The Top of Sales?
Because of the high quality liner, the rotating granulator has long service life.Rotary drum of this compound fertilizer granulator adopts UHMW-PE as inside lining, which prevents wall sticking, and relieves work intensification.
High output, low energy consumption, and low maintenance cost. The largest production capacity can arrive 30 t/h.
Its granulation rate can reach 95%.Moreover, the small pellets are less. Even if there are unqualified pellets, you can granulate them again.
By improving the materials temperature with the vapour, the pellets will have low moisture contents. At the sametime, it improves the drying efficiency.
It has visible and easy working process. Only one personcan operate it.
You can make different fertilizers by this machine, including high nitrogen compound fertilizer whose nitrogencontent is above 20%, special fertilizers, organic- inorganic fertilizer and so on.
It can be widely used with varieties of raw materials. You can mix low solubility materials with high solubility according to the formula. Moreover, it is applicable to add some organic matter and microelement.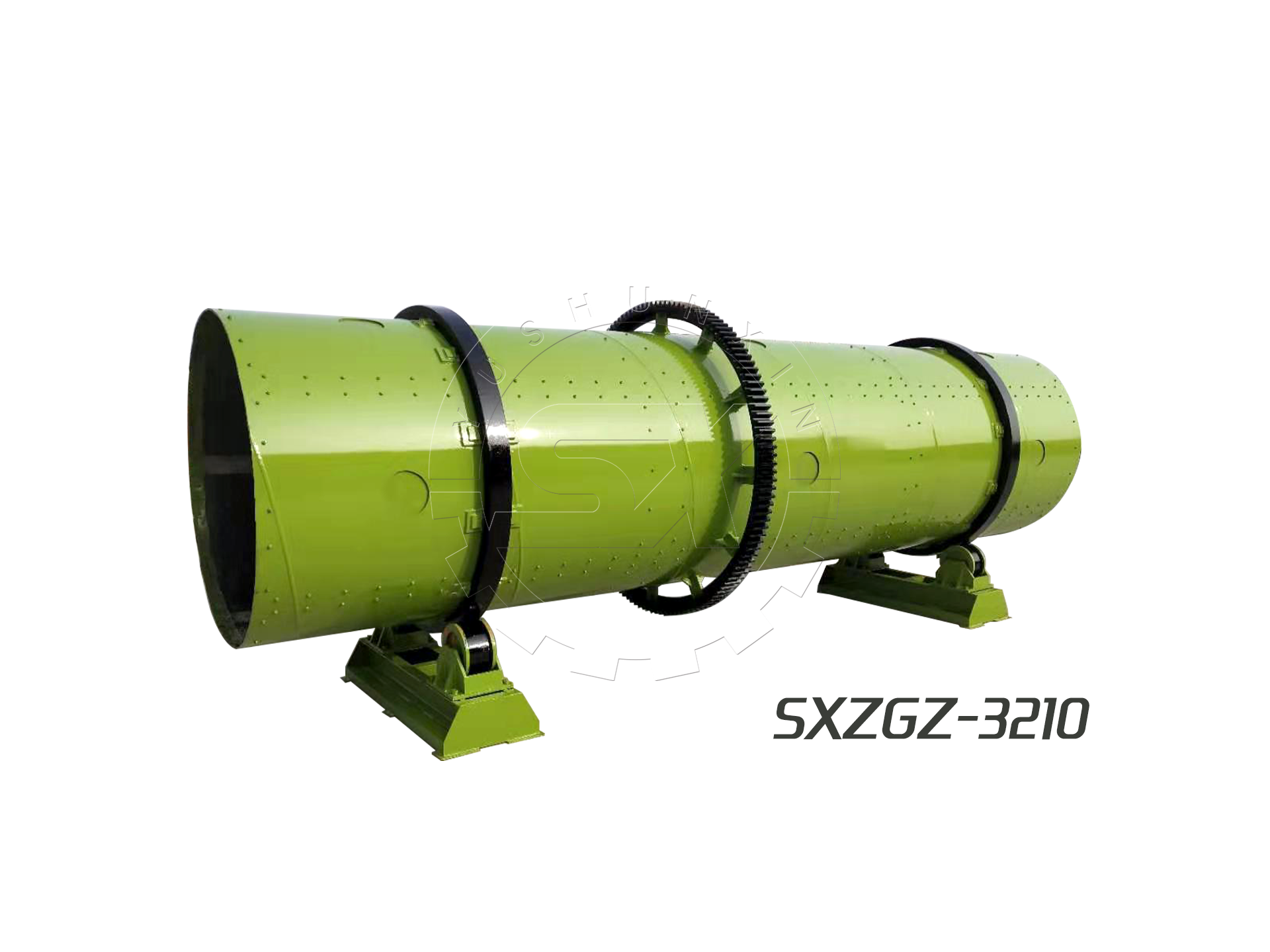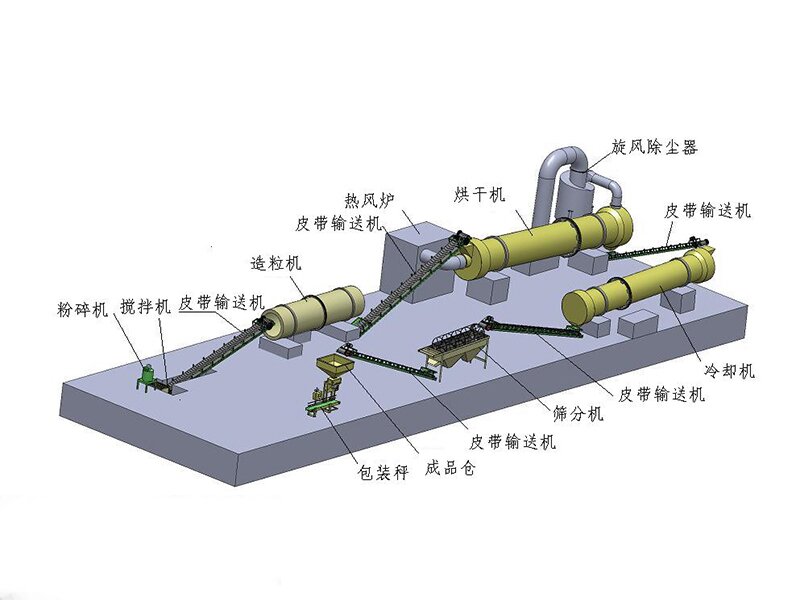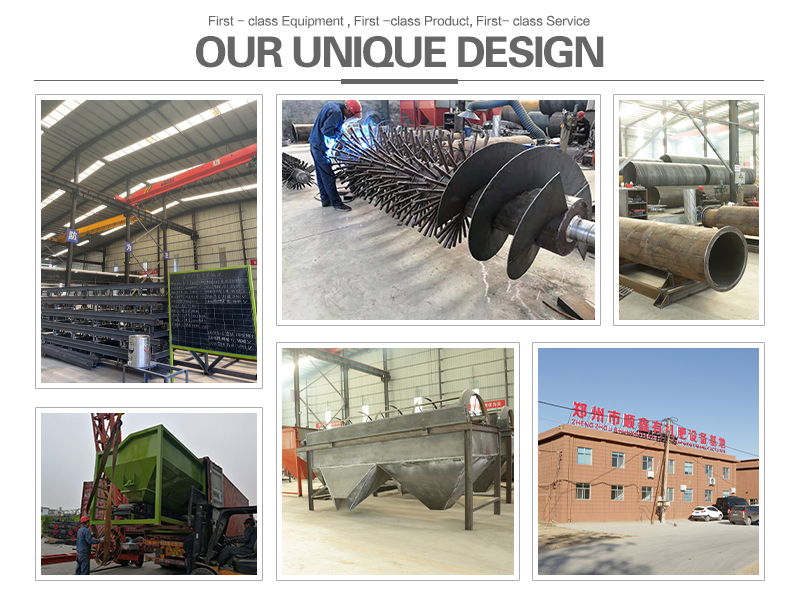 ShunXin's rotary drum granulation machine has many remarkable features, and every design of the drum granulation machine has its role, so more and more fertilizer manufacturers choose it.At the same time, for the needs of different customers, drum granulation is divided into different models, different models adapt to different production needs.Welcome to inform us of your production needs and we promise to provide the granulation equipment that works best for you.
How to Design Rotary Granulator in Our Company for High Quality?
Besides, to transport conveniently, there are 4 hooks on the carrier roller mounting bracket. This rotary granulator design also provides convenience for loading and unloading.
What is The Working Principle of Rotary Drum Granulating Machine?
The main electric motor drives that strap and driving pulley. Under the function of reducer, driving shaft rotates. Then the teeth of open gear being installed on the driving shaft,engage with those of big gear on the drum body. Materials are added into the rotary drum through raw materials feed (the slope of the feed system should higher than the angle of repose of materials). Due to drum body with an angle of incline of 2-2.5, under the influence of gravity and liner friction, raw materials keep doing circular motion and axis movement. During the rotation, raw materials are made into fertilizer granules by the special inner structure of rotary drum.
Technical Parameters of Rotary Fertilizer Granulating Machine
There are many types and specifications of the rotary drum pellet machine produced by ShunXin. We can guarantee that the granulation machine you buy must be high quality and working efficiency. You can know about the specific technical parameters from the followings.
Production Capacity:In one hour, you can reach a maximum of 30 tons of granular fertilizer production per hour. You can also increase production capacity by using multiple drum granulators to combine work.
Operating Power:You will cost less than 35 kw in an hour by using the SX rotary drum pellet machin. In this way, you can cut down the energy consumption and save the investment.
Pellets Quality:The rotary drum type granulator can make the fertilizer pellets with the diameters of 3 mm-8 mm. Meanwhile,fertilizer particles have large hardness, easy to transport.
In addition to the above technical parameters, we also choose the excellent materials to produce the rotary drum pelleting machine. For example, our frame material is carbon steel plate. Therefore, you can believe in the quality of our granulation machines.
| | | | | | | |
| --- | --- | --- | --- | --- | --- | --- |
| 型号 | 功率 (kw) | 内径 (mm) | 长度 (mm) | 倾角 (。) | 转速 (r/min) | 生产能力 (t/h) |
| SXZGZ1240 | 5.5 | 1200 | 4000 | 2-5 | 17 | 1-3 |
| SXZGZ1560 | 11 | 1500 | 6000 | 2-5 | 11.5 | 3-5 |
| SXZGZ1870 | 15 | 1800 | 7000 | 2-5 | 11.5 | 5-8 |
| SXZGZ2080 | 18.5 | 2000 | 8000 | 2-5 | 11 | 8-15 |
| SXZGZ3210 | 37 | 3200 | 10000 | 2-5 | 9.5 | 15-30 |
What Is The Fertilizer Drum Granulation Production Process?
Utilizing the drum rotating equipment for granulating, do you know the granulation process? Here we can show you the detailed granulation process for making fertilizer granules when you use drum granulator as granulation machine.Granulation process takes granulation machine as the main equipment and can be divided into three production phases.
Before the granulation, you should make sure your materials are powdery. It is necessary for you to use powdery fertilizer as materials for drum granulation. If your materials are not fine for granulating, you had better apply a fertilizer crusher for making fine powdery fertilizer materials.
When you feed fertilizer powders into the granulation equipment, the cylinder will be rotating and rotate the powders to granules. The pelleted fertilizers will be out when it becomes granules. Meanwhile, if you need, it is also applicable for you to add some vapour for pelletizing better.
After the granulation, you should dry the granulated fertilizers to make it more convenient for transporting and storing. There are drying and cooling machine for you to process them more efficiently.Besides, ShunXin also provides you some other auxiliary machine for you. It is alternative for you to configure different machines according to your own requirements. Moreover, it is available to customize for you. And we can also design for you.
How Can Use Materials to Make The Granulator Perform Better?
In addition to using steam to maintain the temperature and humidity inside the cylinder during granulation, some techniques can also be used in the selection of raw materials to achieve the required temperature and humidity requirements during production. For example: gas ammonia, phosphoric acid or nitrogen solution, phosphorus ammonia slurry, heavy calcium slurry, when they react with each other, will release water and heat, so that the material can keep uniform and humidity in the drum. This method not only does not need to add additional water and steam and hot air pipes, but also is green and environmentally friendly, and maximizes the value of raw materials.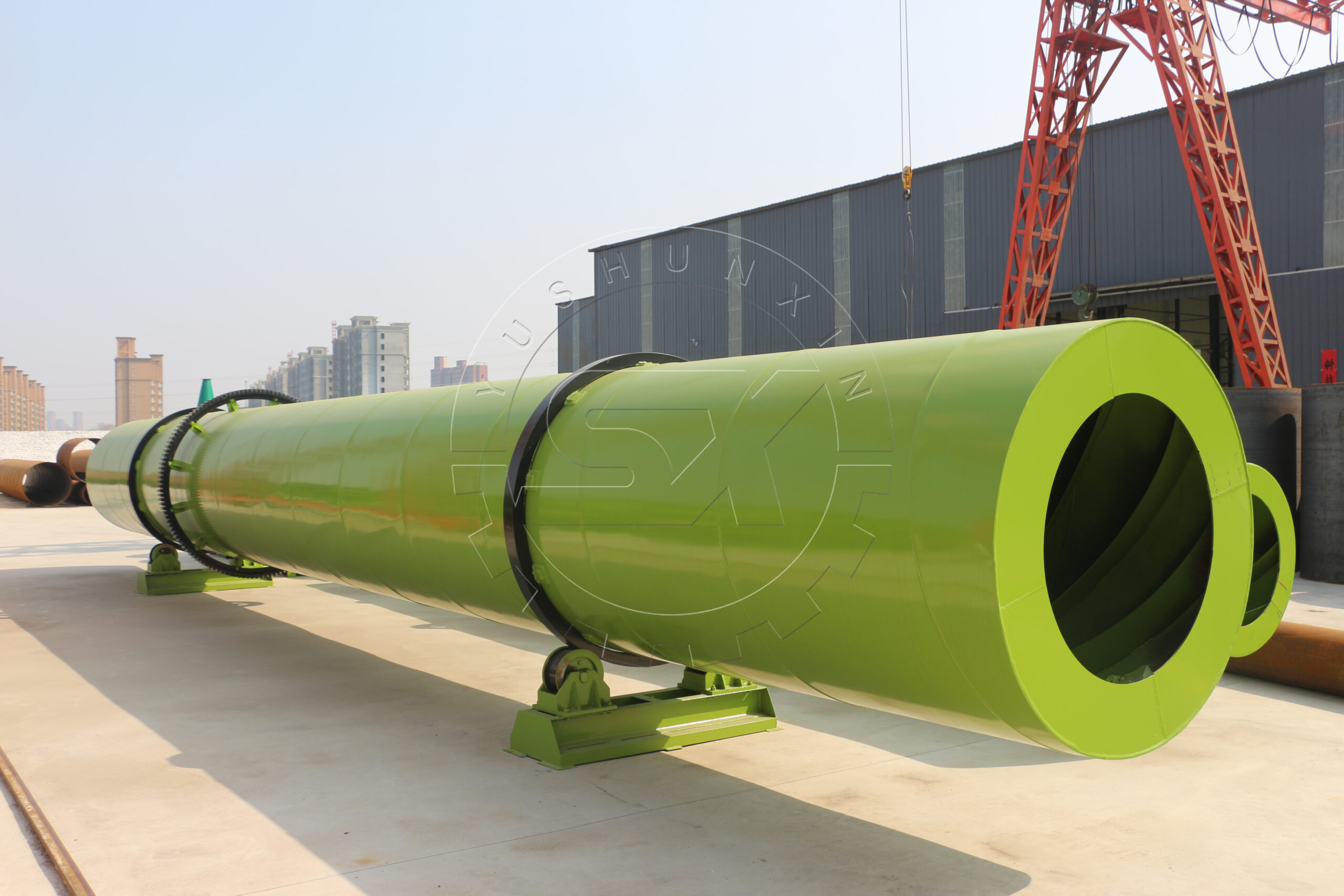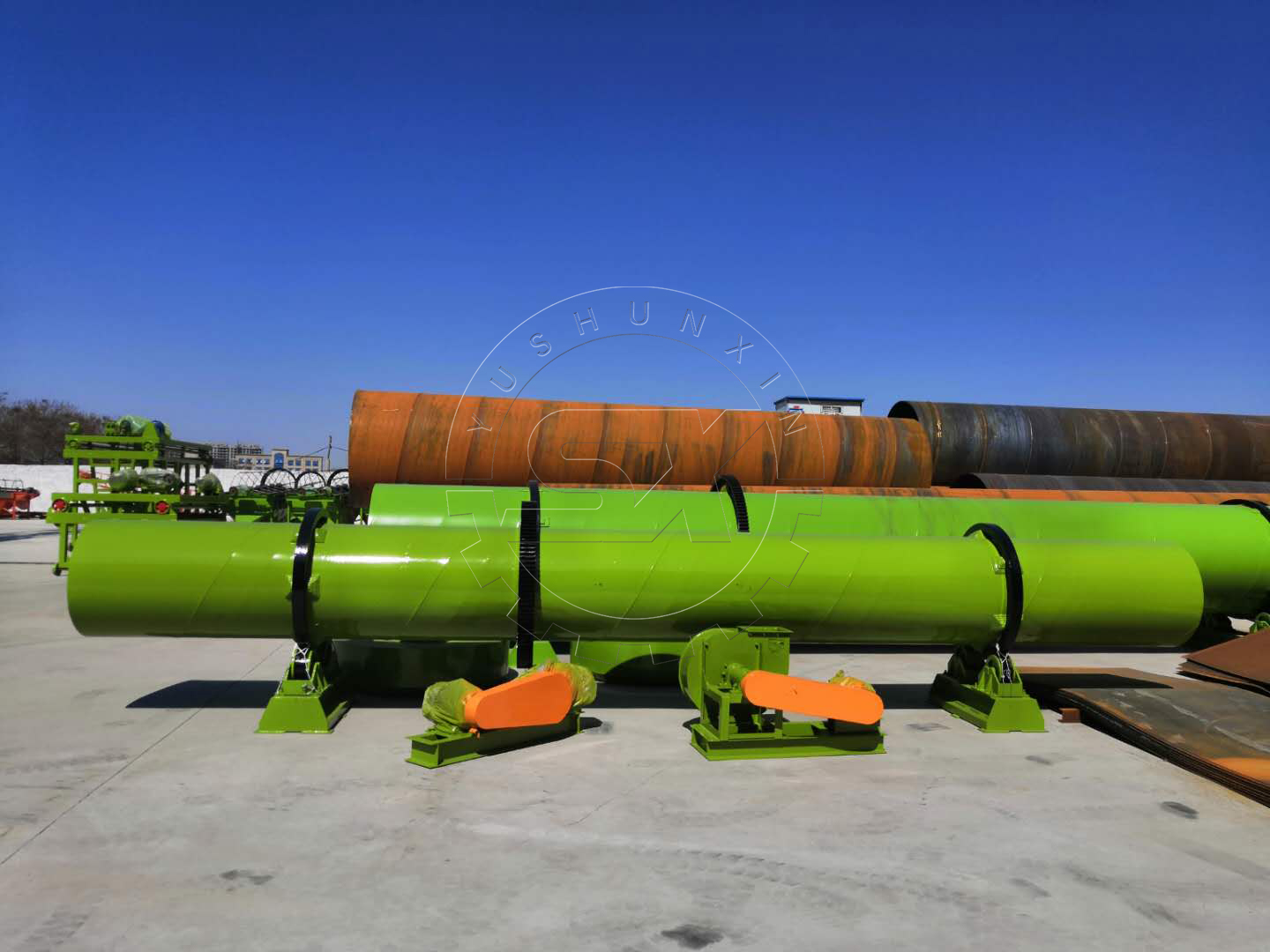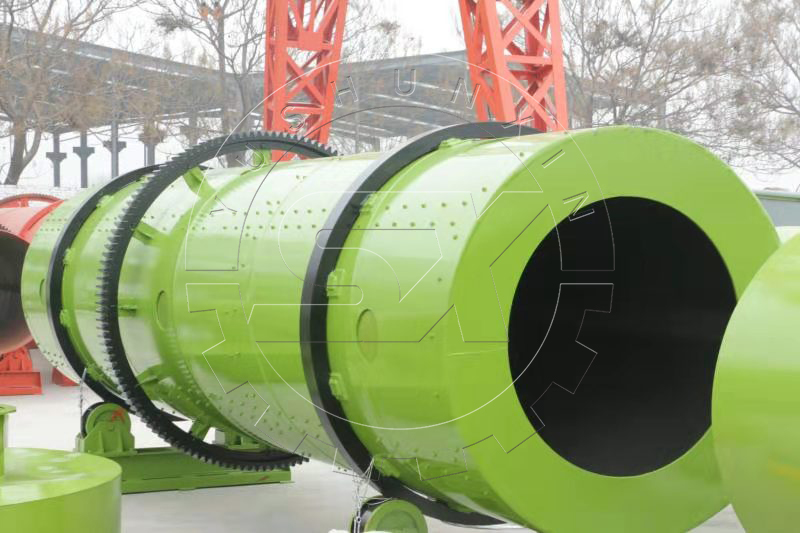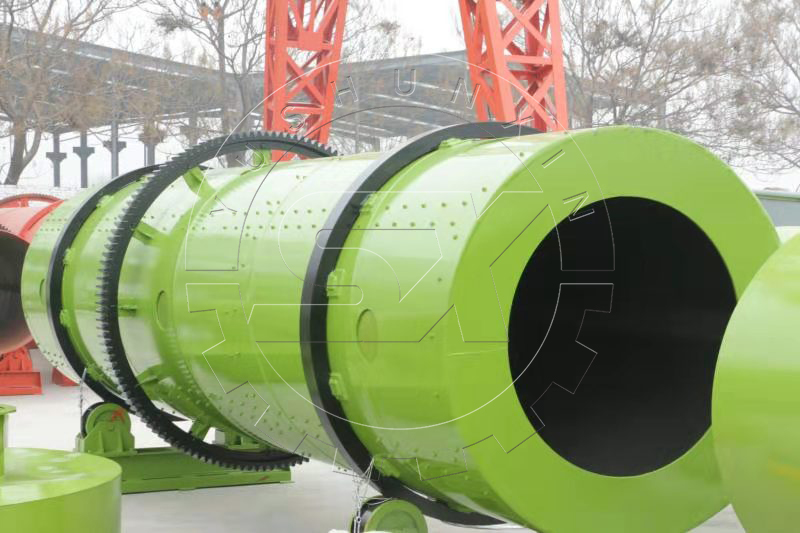 Preparations Before The Rotary Granulator Working
The rotary drum granulator should be installed on a horizontal concrete foundation and fixed with anchor bolts. And the motor body should be vertical to the level.Check the bolts to make sure they are not loose. Check if the main unit door is tight after installation. Configure the power cord and control switch according to the wattage of the device. After completing the inspection, perform a no-load test. Here are the steps for the no-load test:
The drum rotates for 8 hours. Elevated bearing temperatures indicate that the machine is working properly. If the machine is stopped, the temperature should not exceed 50°
Pay attention to the noise of the gear and make sure it is normal.
You can refer to our manual or installation video for no-load test. After the test is successful, you can start your fertilizer production with the drum granulator.
How to Maintain The Rotary Drum Granulator to Work Better?
It is best to use high-quality lubricating oil for bearings, because it plays an important role in the operation of the machine. If there is serious friction when the machine rotates far, it will affect the service life of the drum granulator. Based on our many years of experience, you should use lubricants on the following components: rotary bearings, rolling shafts, large gears, drive bearings.
In addition, the staff should check the slats frequently, as it can easily loosen.When the drum granulator is working, pay attention to ensure that all parts of the machine are working properly. If it is found that the bearing oil temperature rises, it must be stopped in time. Then check and remove it, including the gear. Oil these parts frequently to ensure the machine works better.
Apply dry butter to the gears before running the machine.
Dry the butter on the surface of the rolling belt every 7 days.
Add gear oil before the reducer works.
Change gear oil every 4 months.
In this fertilizer production, we recommend our customer this rotary drum fertilizer pelletizer. This rotating granulation production capacity is about 30 ton per hour. It is helpful for your large scale fertilizer production plant. Especially, it is suitable for your both organic and compound fertilizer production. This machine utilizes wet granulation technology for pelletizing. Whether your powdery materials are organic or compound fertilizers, it can turn them into fertilizer granules well. Meanwhile, equipping with some other equipment, such as drying machine, cooling machine, screener, etc., the finished fertilizer pellets you get will be better. Moreover, for your commercial large scale ferilizer granules making business, you can also use a packing machine for bagging efficiently.In short, whether it's a granulation machine, a granulation production line, or a granulation auxiliary equipment, we can meet your production needs.Please consult with us immediately to start your pellet fertilizer business.